PLG to Collaborate with Sitthi Logistics to Develop Vientiane Logistics Park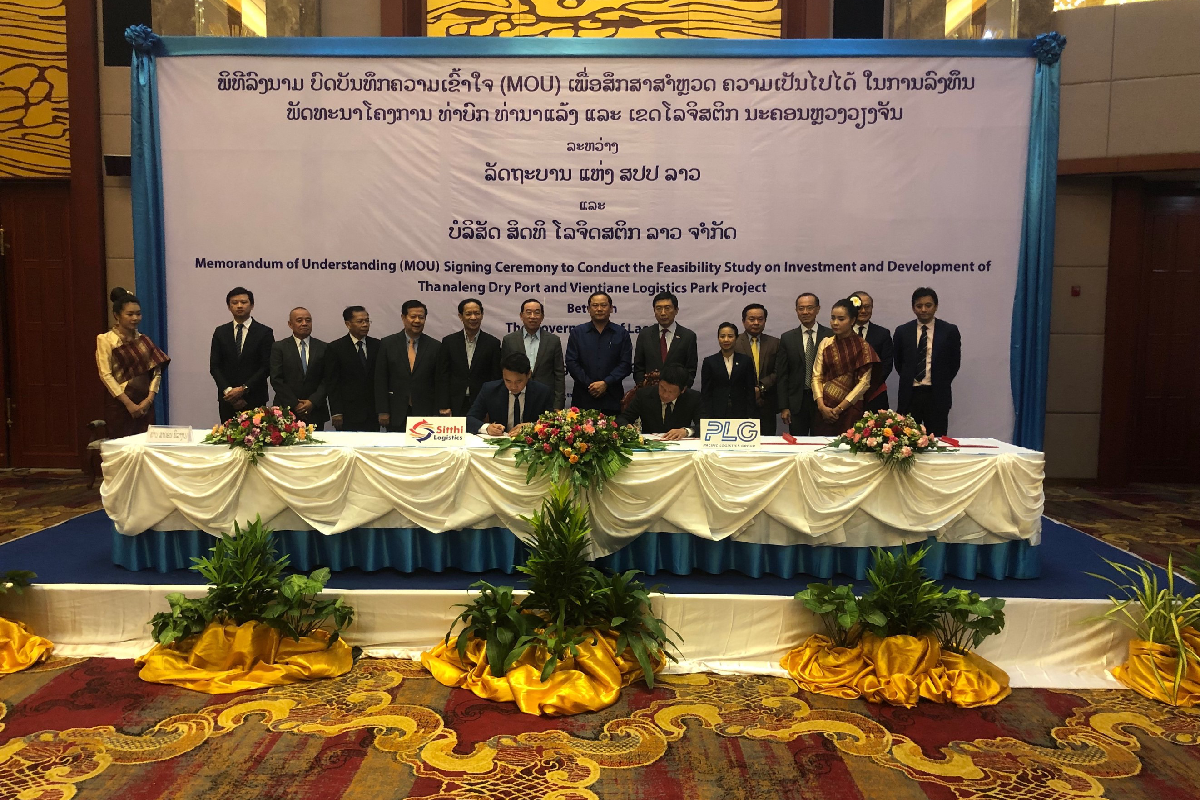 is surrounded by five neighbouring countries such as Thailand, Cambodia, Vietnam, Myanmar and China (Yunnan) and its landlocked location has traditionally been a large constraint on its economic development for a long time.
In response to the above, the Government of Lao PDR (GOL) has entered a Memorandum of Understanding with Sitthi Logistics (STL) dated 5th April 2019 to undertake a Feasibility Study for the joint development and implementation of the Vientiane Logistics Park (VLP) project and its associated structures and facilities. The VLP project comprises these five zones in one location: Thanaleng Dry Port (TDP), Tank Farm, Logistics Park, Free Trade Zone (FTZ) and the Export Processing Zone (EPZ) and it is part of the larger Laos Logistics Link project, connecting the VLP to other mega trade infrastructure projects. The VLP is a comprehensive logistics centre, streamlining logistics and transport procedures to reduce cross-border transport costs via a combination of rail and truck transportation options. This mammoth project will be a stepping stone towards making Laos a preferred transit point and an international commercially-connected centre.

Pacific Logistics Group (PLG) concluded the Agreement with STL (Sitthi Logistics Laos) on 5th April 2019 in Vientiane, Laos to jointly develop Vientiane Logistics Park (VLP), transforming Laos from a land-locked country to a land-linked country.

During the signing ceremony, Mr. Kelvin Lim, Founder & Group Managing Director of PLG mentioned: "We are very pleased and thankful to play an important role for the joint development of the Vientiane Logistics Park in Lao PDR with STL. With our joint rich experience in freight and logistics, we believe that we can help grow the Laos logistics industry and turn Vientiane into an international logistics hub by introducing matured logistics development and management experience. This, in turn, will help to promote the development of international trade in Laos, increasing its export trade volume and providing a large number of employment opportunities to train local logistics professionals".

PLG is an integrated logistics solution provider that specialises in freight, warehouse, transport and value-added services that covers Singapore and many other Asian countries. Apart from our foray into Laos, PLG is also a joint venture partner of YPL (YUXINOU-Pacific Integrated Logistics Group Multimodal Company Limited) with Yuxinou. YPL is an important representative of the third Government to Government cooperation project between China and Singapore in the field of transportation and logistics.

The signing ceremony was chaired and witnessed by H.E Sonexay SIPHANDONE, Deputy Prime Minister of Lao PDR, Ministers and Vice Ministers from relevant ministries of Lao PDR.